It just shouldn't be this hard!
No one understands what you are going through.
There has to be a better way to help my child!
We can help!
Parenting is tough, and it can be especially difficult when you have a child with additional needs. Our parent coaches and mentors have been on this journey for a long time and want to help you navigate the ups and downs of life with a special needs child. Together, we can make it less difficult by listening to you, discussing with compassion and empowering you with knowledge and tools to be successful in the next stage of your journey. You are not alone!
Common Topics We Cover
During a session we will talk about where your family is struggling. We will help you by sharing our experiences and create strategies that will help you with your goals. Whether you need a strategy for your everyday routine, finding supports in your community, or a specific issue – we are here for you. Our goal is to empower you and your child to be the best version of yourself. Each session you will have "homework" putting into practice some of the strategies we have discussed, that are customized for your situation.
Some of the topics that could be discussed include:
Session Options
We provide personalized 1:1 in-person or virtual sessions to meet your needs. Whether we talk regularly or as needed, you choose what works best for you.
30
Introductory
Get familiar with the coaching experience and identify if it is a good fit for you.

Frequency: Once – initial call
Length: 30 minutes
Cost: Free
60
Standard
You will define goals for your family and we meet regularly to work towards achieving them.
Frequency: Routine Basis – your choosing
Length: 60 minutes
Cost: $90.00
90
Intensive
Discuss your family's specific struggle, in depth, and identify new tools to apply for a better outcome.

Frequency: As Needed
Length: 90 minutes
Cost: $125.00
Meet Our Coaches & Book a Session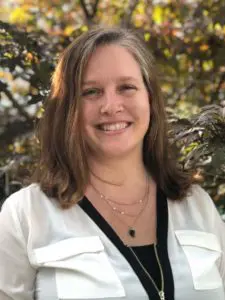 Jen Puccini
Founder
With a Masters degree in Learning Sciences and 15 years in educational publishing, Jen approaches all situations with a desire to understand the root cause before defining the solution. This approach has been essential throughout her 12 years of navigating the intricacies of special needs diagnoses, services and supports. Jen is an engaged mother of two awesome, funny, and loving special needs children. Throughout the years, Jen has watched her kids struggle to integrate themselves into typical spaces and situations. She can relate to how exhausting and stressful it can be to help them navigate school, extra curricular activities, and other social situations.
LOCATION: Illinois – Chicagoland
---
Book a session with Jen:
Danielle Heaton
Director
As a mother of two energetic kiddos, one elementary age and one middle schooler, Danielle has over a decade of experience navigating the social and educational systems to support her special needs children. She also has over 20 years of experience navigating medical diagnoses and treatments. Danielle is passionate about creating a strong community of parents and caregivers that are honest, supportive, and willing to learn from each other's struggles. She is ready to work alongside other parents as they move through educational, social and medical systems for their child.
LOCATION: New Hampshire – Seacoast
---
Book a session with Danielle:
Frequently Asked Questions (FAQ)
Who is Caregiver Coaching for?
We offer caregiver coaching to anyone who is in the life of a child and is looking to understand and support a child better. We welcome parents, foster parents, grandparents, aunts, uncles, nannies, teachers, and others who want to better understand what their child is experiencing. Whether your child just received a diagnosis or you have been on this journey for years, every caregiver can benefit from our coaching.
What diagnosis can Caregiver Coaching be helpful with?
There are many diagnoses that Caregiver Coaching can benefit. Neurodiverse children (Autism Spectrum Disorder (ASD), Attention Deficit Hyperactivity Disorder (ADHD), Dyslexia & Dyspraxia) can often struggle with sensory and emotional regulation. While sensory processing issues can be a standalone diagnosis of Sensory Processing Disorder (SPD), an individual can be affected by sensory regulation issues without having a SPD diagnosis. Many other diagnoses can include a component of sensory regulation issues, including:
Autism Spectrum Disorder (ASD)
Trauma (Simple, Chronic & Complex)
Anxiety
Down Syndrome
Oppositional Defiant Disorder
Misophonia
Allodynia
Upper Respitory Infections
Visual Processing Disorders
Hyperacusis
Obsessive-Compulsive Disorder (OCD)
Attention Deficit Hyperactivity Disorder (ADHD)
Migraines
Pregnancy
Fibromyalgia
Fragile X Syndrome
Lyme Disease
Temporomandibular Joint DIsorder (TMJ)
Speech & Language Disorders
Audio Processing Disorders
Adjustment Disorder
Pediatric Autoimmune Neuropsychiatric Disorders Associated with Streptococcal Infections (PANDA)
Post Traumatic Stress Disorder (PTSD)
Depression
Concussion
Tay-Sachs Disease
Selective Mutism
Prader Willi Syndrome
Meniere's Disease
Vertigo
Motor Processing Disorders
Global Developmental Delays
Are there any discounts available?
Yes. We have a sliding scale payment option (up to full scholarship) so that no one is turned away due to inability to pay. If a sliding scale payment option is needed, this topic should be discussed during the introductory session.
Which session length is right for me?
There are two different session lengths/formats available. The Standard session is designed that you will meet with a coach on a regular interval. Whereas the Intensive session is available if you need to discuss a single topic in greater detail, without the intention of meeting for future sessions. You can choose what works best for you.
How many sessions will I need to see results?
Every family has a different situation. Whether we talk regularly or as needed, you choose what works best for you. Most clients who meet regularly start to see results after three or four sessions. You are in control of how many sessions you would like to do. You can also ask your coach as you are making progress about how frequently you need coaching.
Where are in-person sessions available?
There is the option for in-person sessions in Illinois (the Chicagoland area) with Jen and New Hampshire (Seacoast) with Danielle. The session will occur in a mutually agreed public location such as a coffee shop, park or library. Outside of these geographical areas, we are happy to support virtual sessions via Zoom.
Will our conversations be private?
Yes. We value your privacy and believe in having a safe space where you can speak freely. We will always ask your permission to use a quote or share any of your information.
How quickly can I book a session?
Sessions must be booked at least twenty-four hours in advance. When you go to book a session, you can easily see our available openings.
What are the benefits of Caregiver Coaching?
Although each family sees improvements in different ways, caregivers have told us that our help has made their day-to-day lives smoother with better routines, better understanding of the root of the struggle, and tools to help lessen the tug of war.
What Our Clients Are Saying
"I just want to say how much I enjoy working with you.  I truly always look forward to a meeting with you when I see it coming up on my calendar.  I don't always feel that way about every meeting but I think it is because I feel like I can be real and honest whenever we meet and I never feel judged."
Prof. Sarah Smith, UNH, Research Partner
"I like taking the tools from the session and putting them into practice."
"I like leaving each session with some homework- just a few simple things to practice or ponder as they come up with the kids. It's not time consuming, it actually makes my life easier!"
"This was very educational! I've learned a lot today. I'm learning to get into his world... his door."
Ruth, mom of a middle schooler
"Thank you for continuing this with me. I really enjoy talking with you. The support is amazing!"
Kelsey, mom of a middle schooler
"This service was a great support system to have."
"After a few sessions, it is very encouraging to see results within a period of only a few weeks. The kids are the same, but I'm responding differently which makes it less of a tug-of-war."
"I am seeing my son differently...This changes so much...but it [this new understanding] feels like a key that unlocks a lot of important things."
Ruth, mom of a middle schooler
"I feel I can be real and honest whenever we meet and I never feel judged...You are living the values of your organization."
Prof. Sarah Smith, UNH, Research Partner