Twenty-One Senses loves to work with other organizations in the community. This allows us to help educate even more people in our community about sensory inclusion and what small steps can be taken to include so many more to participate. Check out these highlights below that show our efforts, as we work to bring sensory awareness and inclusion for everyone in the community.
Title
Danielle, our Founding Director, was interviewed for this national article, discussing the sensory accomodations, sparked by Walmart's back to school sensory-friendly shopping in August 2023.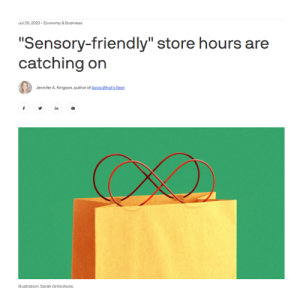 "Sensory-friendly" store hours are catching on
Twenty-One Senses were referenced as "one of the more comprehensive directories" in this July 2023 Axios article about increasing sensory-friendly offerings.
NBC Chicago News Coverage of Twenty-One Senses
NBC Chicago highlighted Twenty-One Senses inclusive baseball game, Sensory Stride, at the Chicago Dawgs Stadium on June 4, 2022. Watch the clip to learn more about the sensory awareness efforts at the event.
Traveling Different: Vacation Strategies for Parents of the Anxious, the Inflexible
Twenty-One Senses was mentioned as an autism friendly resource in this "travel bible" for families with children on the autism spectrum.
Business NH Magazine
Danielle, our Director of Programs & Operations, was interviewed about Twenty-One Senses and our efforts to advance inclusion for children with invisible disabilities in New Hampshire.
The Point Podcast
Jen and Danielle were interviewed by Callie Himsl on La Pointe Foundation's Podcast, "The Point" where they talked about who we are and how to support invisible disabilities.
Robbie's World on Might House Home Improvement Radio
Jen, our co-founder, was interviewed on Robbie's World on Might House Home Improvement Radio to talk with Robbie about sensory issues in children and how to work with them.
NJS Studios
Rebecca, our Program Specialist, was interviewed and photographed by NJS Studios. Read below to see more of Rebecca's daily life, her work with Twenty-One Senses, and how she works to further our mission.
Neighborhood Power Project Case Study
Through our partnership with Family Matters, we are actively working to support sensory inclusion in all aspects of their organization. Read below to see how Twenty-One Senses has worked with Family Matters to be conscious of sensory inclusion during their physical space upgrades.
North Shore Moms
We loved being a local nonprofit spotlighted by Chicago North Shore Moms in June 2021. This article helped parents understand what sensory overload is, who it affects, and ways to help support their child best.